Inspirations on Respiration
Equine nutrition expert navigates a sea change in understanding of equine respiratory health.

By Kim Miller | Equestrian Writer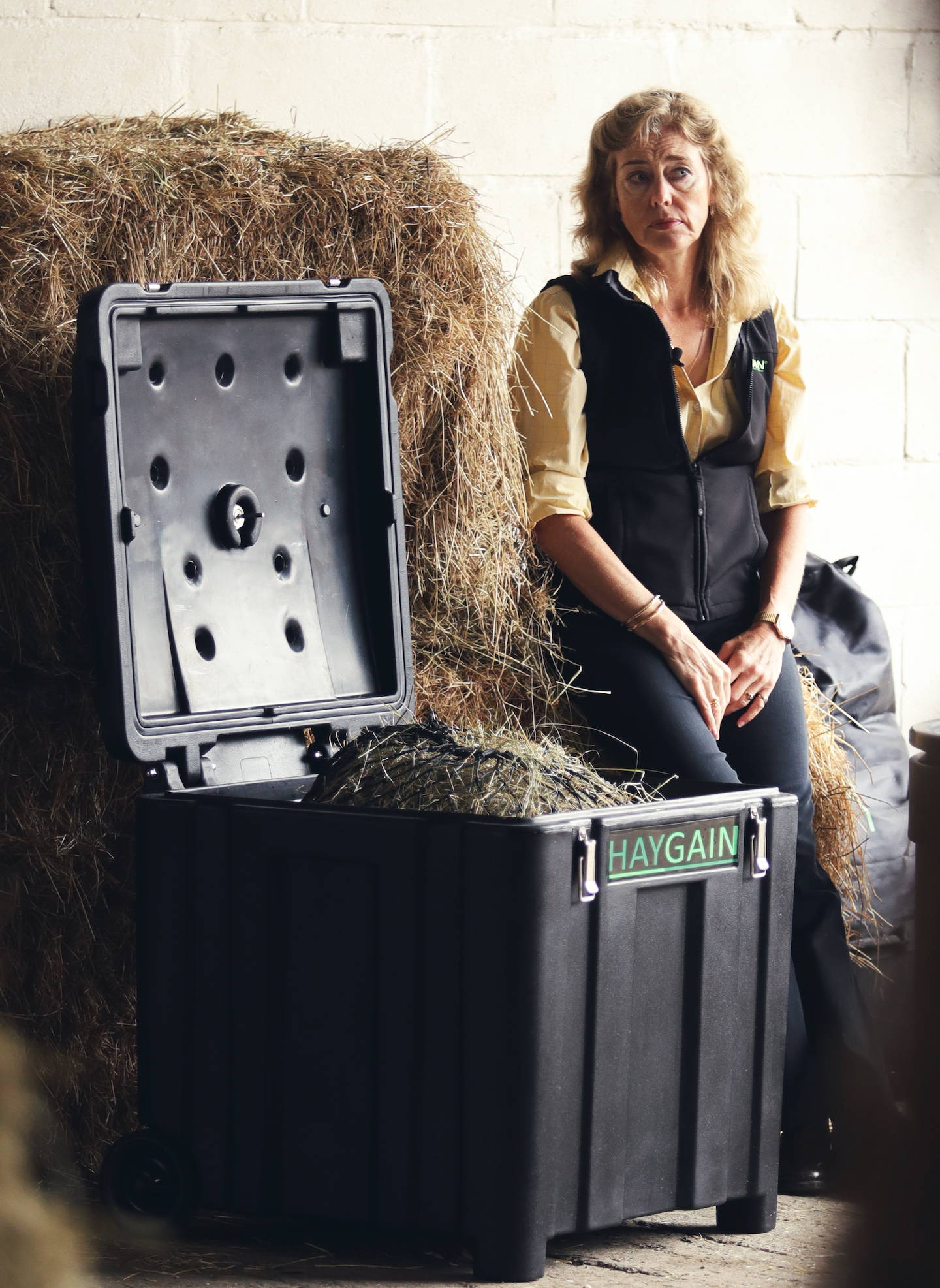 Meriel Moore-Colyer, PhD, doesn't look like a super-hero. She wears a lab coat, not a cape, and she doesn't have her own comic book or Marvel movie. Yet, horses and those who care for them hold her in highest regard for her work on equine respiratory health.
A professor and graduate dean at the Royal Agricultural University in Cirencester, England, she came to the topic of equine respiratory health while earning and using her PhD in equine nutrition. The fact that hay is most horses' main source of nutrition warranted a close look at what's in it: a very close look.
Hours and years peering through a microscope revealed otherwise invisible bits of bacteria, mold, fungi and other allergens in even "good quality" hay. Those bits' ability to infiltrate, irritate and trigger inflammation in the upper airway and lungs clarified the connection between what horses eat and how they breathe, and hence, how they perform. The link is poor stable air quality resulting from those particles in and floating around hay, usually right in the horse's breathing zone. Moore-Colyer found it an irresistible path of study.
Early in her career, she published a paper on the levels of these respirable particles in hay. In 1996, she supervised a student delving into the same topic and she later conducted a study on the impact of steaming hay using a simple household kettle and a bin. The bulk of her focus for many years, however, was fundamental digestive physiology.
Respiratory health came front and center again with a call from Brian Fillery in 2008. It was an out-of-the-blue call from a stranger. Busy competing her Irish Draft Horse in a dressage show at the time, Moore-Colyer asked him to ring her back later, not sure if he would.
Fillery was a third-generation horseman and owner of Propress, the manufacturer of steam generators for commercial appliances. He rang her back to discuss "an idea and a box with spikes in it," she recalls. The device was a high-temperature hay steamer to address the "rattle, coughs" and poor performance Fillery heard and experienced in field hunters and racehorses over the years. "I knew it was a good idea right away," Moore-Colyer recalls.
Thus, began the evolution of hay steaming first prototyped in the mid-1990s. Extensive research under Moore-Coyle's supervision at the Royal Agricultural University refined the process. Patented spike manifolds deliver steam evenly throughout hay in a thermally sealed chest, and at the temperatures required to kill bacteria and de-nature various allergens: 212°F (100°C). Such temperatures are not achievable with DIY steaming attempts. Steaming hay at lower temperatures winds up incubating microbial growth instead of arresting it.
The Haygain process repeatedly proved its ability to reduce up to 99% of the dust, mold, fungi, bacteria and other allergens found in hay. These are the main culprits, along with bedding, that cause respiratory disease that affects over 80% of active sport horses.
The commercially available manifestation of Fillery's idea became a reality in 2009 and the equipment is now a foundation of modern horse management. Especially as more horses spend much of their day inside the stable, hay that's virtually free of respirable irritants is a simple, effective safeguard.
Sadly, Fillery passed away in 2016. But not before seeing Haygain support horses competing in the Olympics and World Equestrian Games and for his "good idea" to be embraced by horse owners around the world.
It didn't happen overnight. "It's been a long haul," Moore-Colyer shares. "We are in a very conservative industry really." Handed-down horsemanship can be a mixed blessing. "A lot of people are trained by their grandfathers, etc., and it can be hard to introduce new things."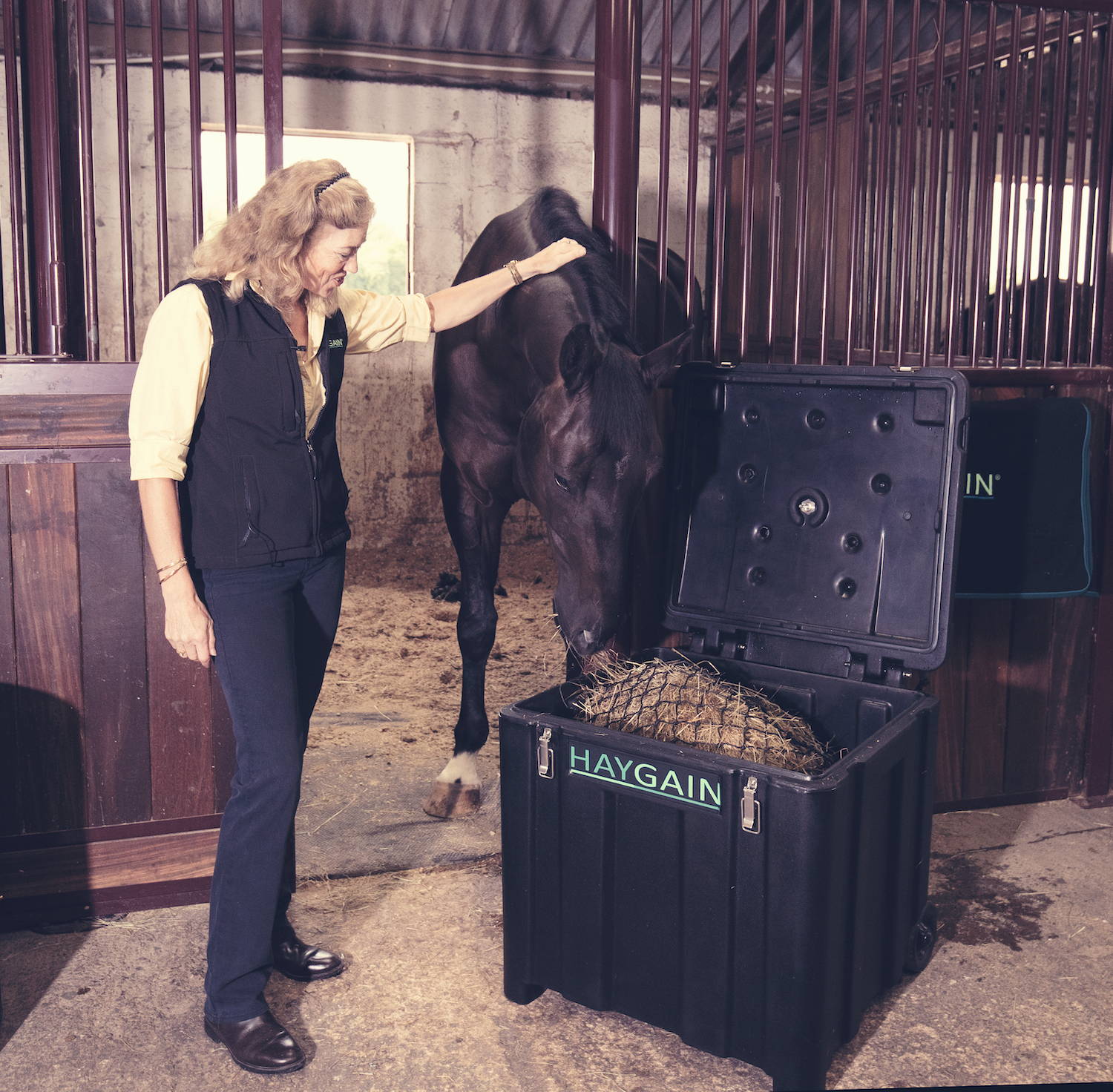 Making headway in the veterinary community has been critical to broad horse owner acceptance. Moore-Colyer recalls a milestone in that department while presenting a research paper on steamed hay benefits during the Havemeyer Foundation Inflammatory Airway Disease Workshop in France in 2014. Leading equine respiratory pioneer, Dr. Ed Robinson, BVetMD, PhD, "stood up and said, 'Well, we've had some interesting conversations, but the only people who have added anything to this story are the Haygain people."

Six years later, she's pleased by the extent to which veterinarians are prioritizing respiratory health. "They realize that, to run fast and perform, it's all about lungs and legs."
Horse owners are following suit, on both the importance of respiratory health and on the benefits of steamed hay for the respiratory system and other aspects of well-being and performance.
"Aha!" moments abound in the educational process. An owner approached Moore-Colyer after a recent talk comparing the effects of steaming versus soaking on the growth of microbes in hay. "He said, 'When you say it, it's so obvious, but I never thought about that before.' And, of the badly polluted nature of post-hay soaking effluent, he said, 'It really never struck me that this could be a problem.' I appreciated his honesty and I thought it was an interesting reflection of how what we are doing regarding respiratory health makes sense but is something horse owners don't always think about."
Too often, owners only get interested when there's a problem to fix, rather than preventing the problems in the first place. Amid the myriad things that can go haywire with horses, respiratory function is that rare component that can be protected. Not recognizing that "is nuts," asserts the professor. She's especially frustrated by owners who believe that, because their horse doesn't perform at high levels, their respiratory function doesn't need much attention.

"That's like saying that, because your granny doesn't go to work every day, she doesn't need to be healthy." As a lifelong horse owner, Moore-Colyer knows first-hand the easy incorporation of high-temperature hay steaming into the barn routine. "We clean our stalls, we clean our tack, we throw a bale of hay into the steamer."
After guiding the final product refinements and conducting the research confirming steamed hay's benefits, Moore-Colyer is happy to have helped bring something so simple yet life-changing -- lifesaving, in some cases -- to horses.
No capes needed. No comic books, no movie deals. Healthy horses are ample reward.
Get the Haygain Newsletter
Subscribe for the latest news, health advice, special offers and competitions. Fill out the form at the bottom of this page.